TOT SCHOOL
MAY 8 – 14
22 months
orange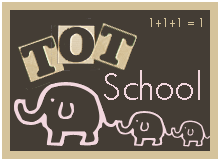 Ok, so this week and this current week are going ssslllooowww on the Tot School side of things. For whatever reason (mostly because I need to clean my house after not cleaning for 2 weeks), I have been allowing Ty unlimited time to play outside in the backyard and to read, color, paint, "vroom" tractors, etc. to his heart content, without a lot of specific time for Tot School. Today I finally got back on track with my "cleaning schedule" and from here on out I am re-committing myself to Tot School.

PM – Orange Box, Coloring, Swimming pool in backyard
The boys really loved coloring besides each other. For some reason they thought it was hilarious! Ty dumped the Orange Box all out and discovered all the many orange items that was inside it. B and Ty sat for a good 30 minutes threading orange pony beads on orange pipe cleaners. After lunch, and a nap for Ty, we swam in our new pool in the backyard.
AM – Museum of Natural Science
PM – Do-a-Dot orange coloring, Tractor painting
Do-a-Dot's are Ty's new favorite things!! He likes singing "dot dot dot, do a dot, do do dot" while dotting away.
I pulled out some paint and told Ty to grab a tractor. He enjoyed "vrooming" the tractor across the paper and seeing the tracks it made. Funny side note – I ran to change the laundry real quick and asked Eric to come watch over Ty while he painted. As Eric walked over and I walked away, I heard Eric shout "No, Ty, don't stick the tractor in the paint!" Ha, I yelled back to Eric that tractor painting was our purpose!!
AM – Story Time at the library
PM – Free play ALL afternoon : – ), Built a Fort with Aunt Di & Trigger after dinner
Fort building was FUN. And not just for Ty and Aunt Di. Eric, myself, Trigger and Meme all got in on the fun.
THURSDAY
AM – Orange Sensory Box, Blocks
PM – Swimming pool in back yard
Somewhere online, some blog, I read about using shredded paper in the sensory box. So that is just what I did. I shredded some orange construction paper and replaced the old oatmeal in our sensory box. Ty had a blast using his tongs to pick out orange items out of the shredded paper. He repeatedly plays "its hiding" with his sensory box. He hides pom-poms in the shredded paper and wants me to find them. Ty also pulled out the blocks and I sat down and built with him.